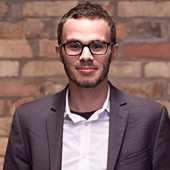 David Berliner
Senior Strategy & Project Finance Lead
David is a Climate Finance guru and joins us as our Senior Strategy & Project Finance Lead and will be developing analyses to support commercial strategy derived from a mix of technical research, market/competitor intelligence, policy understanding and project economic analysis.
David previously worked as Head of Deal Structuring at Vancity Community Investment Bank, where he created and led a Clean Energy project finance team. David has also been honored with various prestigious accolades, such the Canada Clean 50 Award (2017), Corporate Knight's Magazine Top 30 under 30 Sustainability Leader; CIX Cleantech Top 10 (2015) and there is a long list of others!
We look forward to working with David to support our vision "The Atmosphere- Restored".